5 Hacks for Versatile Jewellery
Posted by TAYLOR LIPOVAC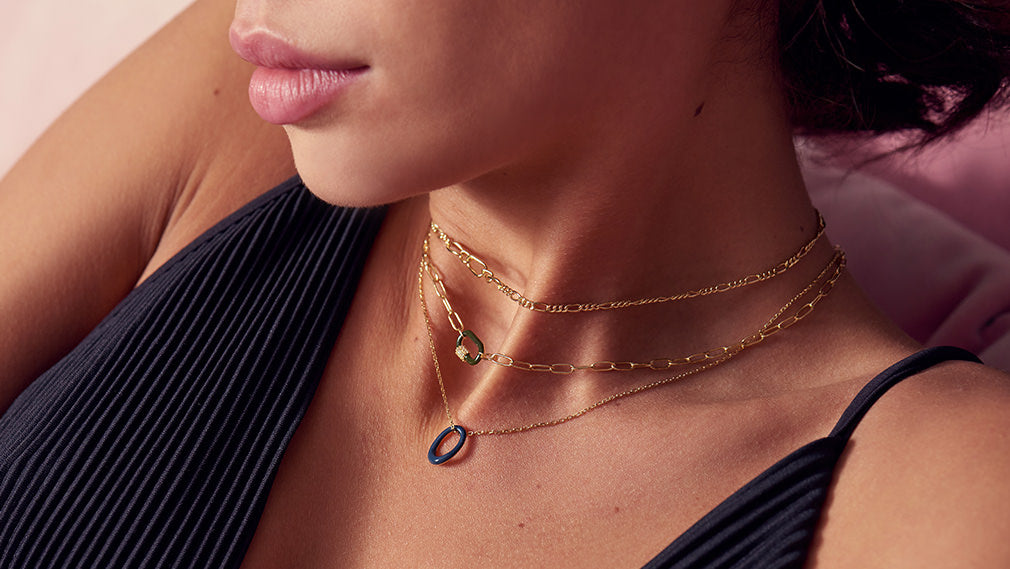 Make Your Jewellery Box More Versatile This Season
Whether you prefer to shop classic or on-trend jewellery (or a little bit of both), you want your picks to last. And that's how we design at Ania Haie. Even for the boldest trend, we want our pieces to go the distance and last season after season. But there are also a few things you can do to make your jewellery collection that bit more versatile. And it's all about how you shop for jewellery – and how you style it!
Reversible Jewellery
Can you get more versatile than jewellery that lets you have two different looks from one piece? We've incorporated some incredible reversible jewellery into some of our new collections and we love how you can choose between statement and classic by just flipping the piece around.
Our Enamel Huggie Hoops are a great example. Wear them with the on-trend bold red enamel on show one day and simply turn them around for a classic smooth gold huggie the next. The same goes with our Carabiner Bracelet. Wear it with the coloured enamel upside for a bright look and show off the gold that styles with everything by simply flipping it over.
Adaptable Earrings
Alongside reversible pieces, we're really into adaptable jewellery this season. A great way to make jewellery more versatile is to design it to be worn in several ways. So, that's what we've done. Wearable in two or more ways, check out our Cable Link Drop Earrings, which can be worn with both link hoops or just one. Plus, our Tidal Abalone Studs, which can be worn with or without the cuff. Our Ear Jackets also work in the same way!
Stacking Rings
It's all about stacking rings now. Choosing rings that can stack together is a great way to keep your jewellery versatile. Wear them solo, stack them up, spread them out. However you're styling them, they'll never be back in your jewellery box for long.
Mix and Match
This hack is all about how you style your jewellery. And you know at Ania Haie, we're a fan of mixing and matching our pieces. Once you get into wearing your jewellery in this way, you'll realise how versatile your key pieces really can be. Mix gold and silver jewellery together and get more wear out of every piece.
Invest in Ear Cuffs
Ear cuffs are one of the most underrated jewellery essentials in any collection. We're obsessed. And once you start styling them into your looks, we think you will be too! The best thing about ear cuffs is their versatility. Because they stretch and pinch, you can add them to different parts of your ear every time you wear them. Style them from anywhere on the helix to the tragus. Then whip them off and you're left piercing-free again.
Browse the huge Ania Haie Ear Cuffs collection and discover colour, sparkle and on-trend details perfect for every look.
The more versatile your jewellery collection is, the easier you'll find it to style each piece and get the most wear out of everything you own. So, don't let your favourite pieces get dusty because you're not sure how to style them. Invest in our 5 simple jewellery hacks and get the most wear out of your pieces.
Shop versatile, adaptable and super chic everyday jewellery with the latest collections at Ania Haie.
Collection 2019
Sale 70% Off
Third slide