5 Key Pieces Your Jewellery Collection Needs to Keep It Versatile
Posted by TAYLOR LIPOVAC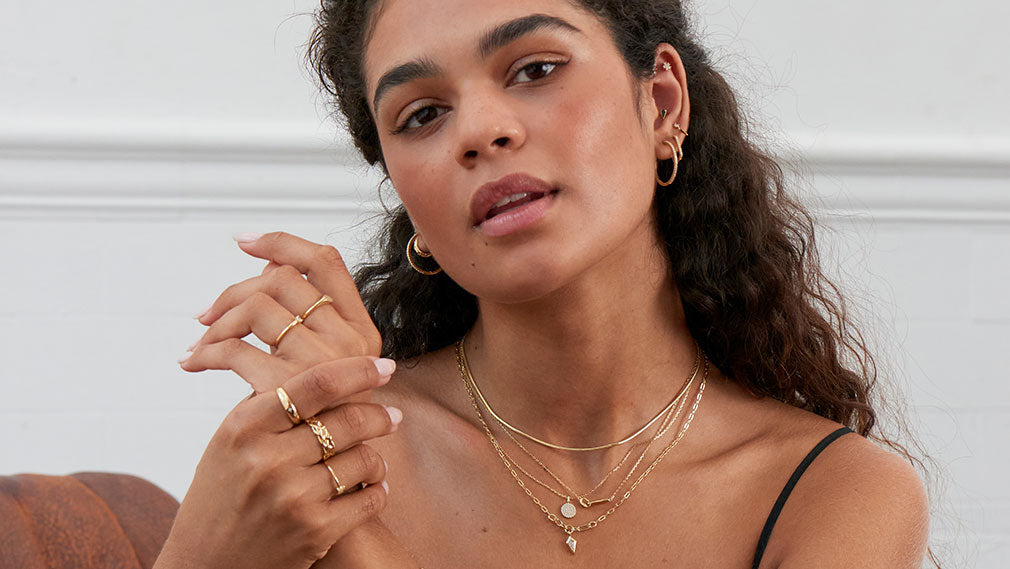 Versatile Jewellery Is Big This Season
As the Spring season sets in, you might be focused on the biggest trends but don't forget the versatile pieces that will bring all your new-season looks together. When it comes to creating the perfect jewellery collection, your edit needs some key pieces that go with everything. Making building layered and stacked looks easier and chicer. From the band rings that you'll never take off to the statement finishing touches that elevate any look from day to night, this is your Spring essentials list for the most versatile and wearable jewellery.
Sleek Snake Chains
Snake chain necklaces and bracelets remain one of the biggest trends for the Spring season, yet they also tick all the boxes when it comes to versatile jewellery that styles with everything. Sleek snake chains are the perfect base for any layered look, serving up a chic starting point that you can wear simply or add statement pieces to. You'll find our signature snake chains in the new Smooth Operator collection in both gold and silver.
Try our Snake Chain Necklace and pair it with anything from dainty chains to chunky pendants and style our Snake Chain Bracelet with a stack of simple chains or a statement bangle.
Sparkle Huggie Hoops
Ear parties are a huge trend for Spring, which means you'll need all the best stackable studs, hoops and especially, huggies. Huggie hoops are the versatile pieces that take your ear party to the next level, adding texture, sparkle and dimension to your looks and creating balance between your simple studs and biggest hoops and drop earrings. And this season, it's all about huggie hoops with some shimmer.
Head to our Glam Rock collection and you'll find our Glam Huggie Hoops with a row of chunky cubic zirconia sparkle as well as our Glam Pendant Huggies with a little extra pendant drop detailing.
2-In-1 Chains
Can you get any more versatile than a 2-in-1 chain that lets you wear your necklace in multiple ways? We're obsessed with being able to style our jewellery in different ways and with our Neon Nights and Bright Future collections, you'll find enamel necklaces that can be flipped, letting you choose to opt for colour or simple gold or silver, depending on your look.
Try our Neon Pink Enamel Carabiner Necklace and decide if you feel like wearing neon pink or simple gold or try one of this season's biggest colours and opt for the same look in stunning forest green.
Stacking Band Rings
When it comes to stacking your rings, our only rule is – the more, the merrier. We love to create unusual and unexpected ring stacks, mixing metals and textures for a look that's truly unique for your style. And to do this, you need versatile stacking band rings to pull the look together. You'll find exactly this in the new Smooth Operator collection.
With a nod to the snake chain trend, our Smooth Operator rings have everything you need to be able to style them with the rest of your ring favourites. In shiny gold and silver, our Smooth Twist Thin Band Ring has an open back so you can wear it on any finger for maximum versatility and is all about texture with its twisted detailing. Fancy something a little chunkier to pair with it? Opt for the Wide Band Ring version, perfect for stacking.
Statement Ear Cuff
The perfect way to finish any look? Opt for an ear cuff. No need for extra piercings, an ear cuff elevates your look with a little added style and detail and is versatile to wear both day and night. This season, head to our Glam Rock collection for statement ear cuffs with a touch of sparkle. Our Glam Ear Cuff is finished with a row of sparkling cubic zirconia stones, making it the perfect finishing piece for all your spring/summer looks. Wear it anywhere on your ear from the lobe up to the helix.
Add the best versatile pieces to your jewellery collection this season with Ania Haie. Dive into our new collections and alongside our trend pieces, you'll find sleek, chic and staple designs that promise to make styling looks a piece of cake. 
Collection 2019
Sale 70% Off
Third slide