A Closer Look at Labradorite Jewellery
Posted by RILEY FEATHERSTONE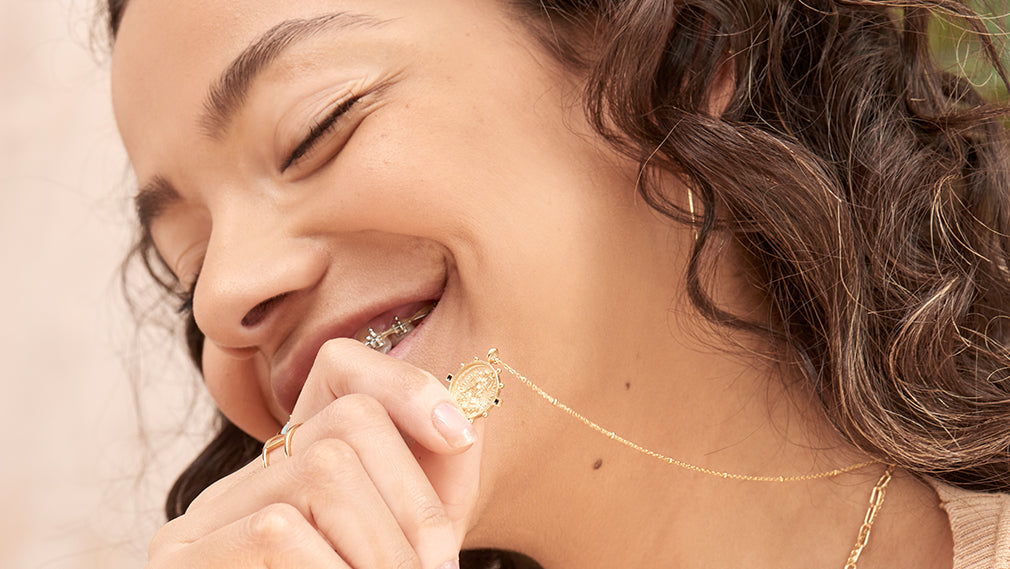 Have you noticed the appearance of our stunning labradorite stones within a couple of our latest collections? This beautiful stone offers the perfect alternative to sparkle, adding a subtle grey shimmer to any understated look.
Where Does Labradorite Come From?
A natural gemstone with a soft and subtle pale grey finish, labradorite was first discovered in Canada and has now been found and mined in several locations around the world. Known best for its use in jewellery, the shimmering tone of the gem can be seen to softly transform when in different lighting, making it a beautifully unique jewellery stone.
Labradorite Meaning & Properties
We chose to include labradorite stones in our collections for 3 main reasons. Firstly, they look simply beautiful, which was initially one of our top reasons to add it to the range. But it also carries its own important meaning and symbolism and holds properties that make it perfect for our everyday, on-trend jewellery collections.
Labradorite is perhaps best known for its protective shield against negativity. It is also said to protect us from the negativity we can often hold within ourselves. A sentiment that feels so important now more than ever, following the crazy year of 2020. The stone represents strength and perseverance through change as well as a balance in aura and spiritual energy.
Physically, labradorite is a perfect stone to use for jewellery due to its resistance. Soft enough to create any shape for any piece, the stone itself is hard-wearing and durable enough for everyday wear without worry.
Our Labradorite Collections
If you like the sound of subtle sparkle, our Midnight Fever collection could well be the one for you. Inspired by a runway luxe aesthetic, the collection balances day-to-day pieces with all-out glam.
From a super simple necklace, like our Midnight chain to a new take on our signature big hoops with our Midnight Hoop earrings featuring scatters of labradorite, it's the perfect way to add subtle sparkle.
Try adding something new to your earring or ring stacks with either a pair of Midnight Star Huggie Hoops or a super stackable Midnight Thick Adjustable ring.
Teamed with turquoise designs, look to our Mineral Glow collection for stunning labradorite pieces with a bohemian feel. The perfect balance of casual and dressy, ideal for day to night, the Mineral Glow collection proves that mixing stones is a strong look this season.
Pair up turquoise and flashes of labradorite with an intricately crafted necklace or bracelet.
Shop beautifully crafted and affordable labradorite jewellery in the Ania Haie Midnight Fever and Mineral Glow collections for everyday pieces with a subtle shimmer.
Collection 2019
Sale 70% Off
Third slide