Ania Haie's Sustainability Journey
Posted by TAYLOR LIPOVAC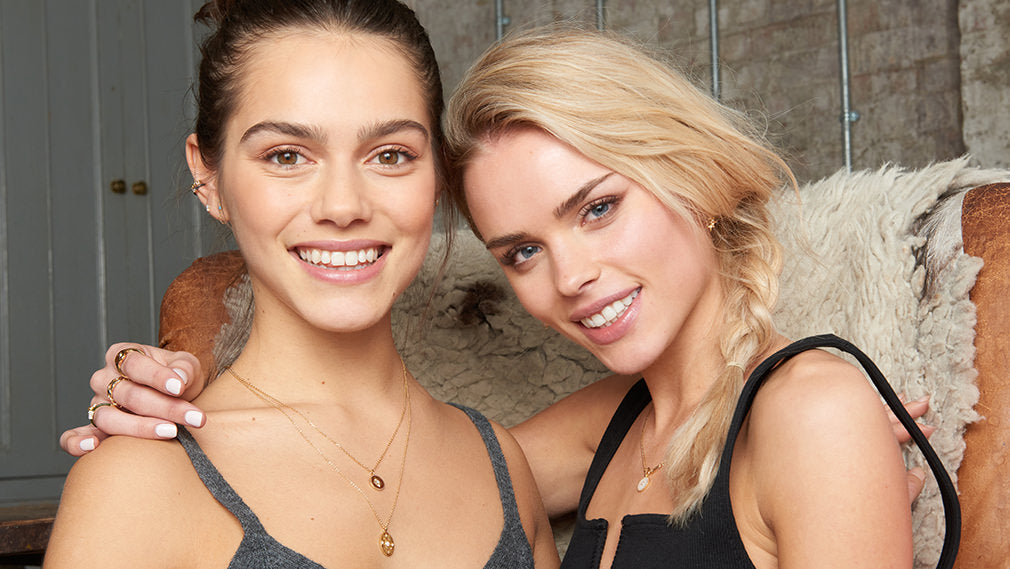 100% Recycled Sterling Silver, Rhodium and Gold
While designing stunning and on-trend jewellery collections is our top priority at Ania Haie, ensuring we are an ethical brand that is working towards being as sustainable as possible has become key. Reducing our carbon footprint, ensuring all our metals and stones are ethically sourced and promising our loyal customers the best experience in the most sustainable way, we have been working behind the scenes to make big changes over the last year.
Being sustainable and environmentally friendly is something we feel very passionately about. From our supply chains and manufacturing to our individual pieces, we're always working hard to make the small changes that make all the difference.
Changes from July 2021 Onwards
Before July 2021, all Ania Haie jewellery was crafted from a mix of recycled and ethically sourced silver and gold. However, from July 2021 onwards, we can now say that every piece of jewellery is made from 100% recycled sterling silver, rhodium and gold. Never affecting the quality of our jewellery, this is something that the team at Ania Haie are proud to have accomplished and we're excited to keep creating in this way for you.
Alongside our jewellery, it's important to us to ensure our packaging is in line with these practices and ethics. Our gift bags and boxes are crafted using FSC paper and card and are 100% recyclable once the single ribbon has been removed. All ribbons will also be 100% cotton recyclable fabric by the end of 2021. We now also offer an eco-friendly option at the checkout if you don't require the signature pink packaging when making a purchase.
925 Sterling Silver, Rhodium and 14kt Gold
Using 100% recycled sterling silver for our jewellery means that none of our silver is mined from the ground. Instead, all our silver is sourced from unwanted already-used silver pieces, recycled and reused to create our collections. Why? This helps make sure that our collections do not add to the demand for mining raw materials, reducing our impact on the earth and our carbon footprint.
Whether you choose a piece in silver or gold, our jewellery is plated with either rhodium or gold. Rhodium helps to protect and preserve the quality of the silver, giving it that extra special shine. And from now, all our rhodium used is also 100% recycled.
We feel just the same about our use of gold. Working only with Responsible Jewellery Council approved gold suppliers, we ensure that all gold used comes from safe and sustainable practices – with a focus on safe working conditions. Similarly, from July 2021, all the 14kt gold used for our collections is now 100% recycled.
Gemstones
If you know Ania Haie, then you know we take gemstones seriously. From stunning opals to vibrant turquoise, our collections are packed with the gemstones that make each piece truly special. It's obviously then very important to us to ensure these stones are also just as sustainable as the metals in which they are set.
We only ever use ethically sourced and fully traceable gemstones in our jewellery. These are sourced from responsible suppliers with incredibly strict ethical and sustainability standards.
So, you can rest assured that from top to bottom, our jewellery is designed and made with love, care and ethics.
How Can You Help?
While we'll continue to work hard to be as sustainable and environmentally friendly as possible, you can also help! Every small thing done towards a more sustainable way of life helps. So, if you're not sure where to start, here are just a couple of simple suggestions for your everyday routine!
Turn off the tap while you brush your teeth

Only boil enough water for your tea if that's all you're having

Be strict with your household rubbish and recycling

Use public transport and travel less in general, if possible

Try not to blast your heating through the winter

Eat less meat

Switch to reusable alternatives and reduce buying single-use plastics

Go paperless whenever you can

Shop recycled and sustainable jewellery to complete your everyday looks with Ania Haie!
Shop the latest collections of stunning and sustainable jewellery from Ania Haie and update your jewellery collection with a touch of something special.
Collection 2019
Sale 70% Off
Third slide