Discover The 14kt Gold Collection
Posted by TAYLOR LIPOVAC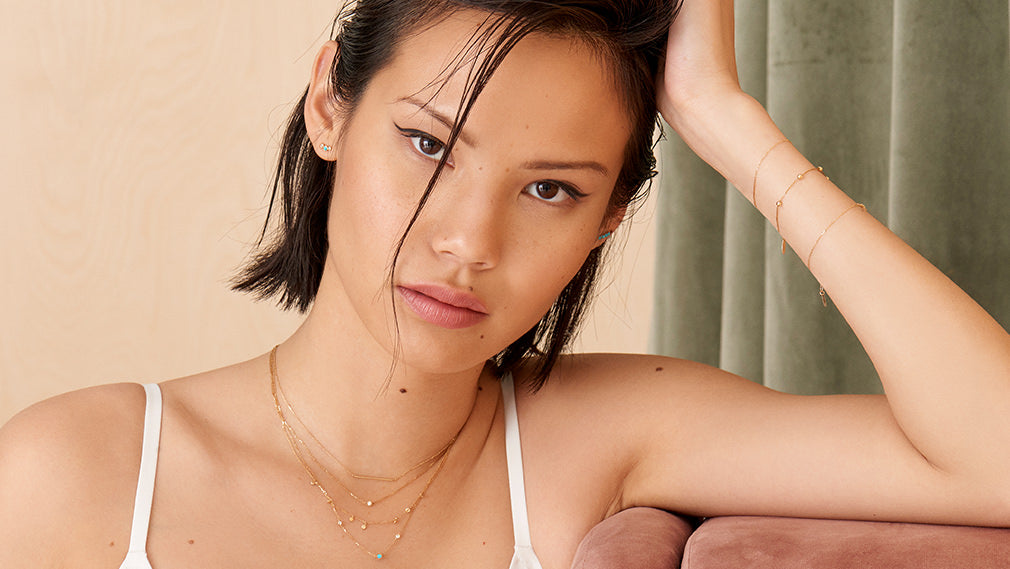 Embrace Everyday Diamonds and More with the 14kt Gold Collection
With the launch of our first-ever 14kt Gold Collection, we've also been embracing a more luxurious feel when it comes to stones. While the collection is designed to be worn every day with every look, we've included a selection of some of the most stunning, sparkling and coloured stones we've used to date. And we can't wait to see what you think.
Introducing natural diamonds, sparkling white sapphires, real opals and vibrant real turquoise stones, creating a luxe look for every day has never been easier.
Natural Diamonds for Everyday
We hate the idea of saving diamonds for special occasions only. What a waste. That's why this collection is designed with beautiful genuine diamonds that we encourage you to wear with every single one of your day-to-day looks.
The diamonds in this collection have been ethically sourced to ensure they are fully traceable and completely conflict-free. A matter just as important to us as the beauty of the stones themselves.
Discover pieces like our stunning Diamond Huggie Hoops or effortlessly simple Solitaire Diamond Ring.
White Sapphires, The Perfect Touch of Sparkle
Embodying love, strength and partnership, white sapphires are packed with symbolism and meaning, making the stone a perfect choice as a gift to someone else, or to yourself. They also happen to be incredibly beautiful, the clear stone catching the light with every twist and movement.
Designed paired with opal stones, discover the white sapphire encrusted Star ring or Studs.
Real Opals for Shimmering Style
With an effervescent shimmer that could only come from a genuine stone, you'll also find beautiful real opal stones within the 14kt Gold Collection. Opals embody optimism and hope as well as a connection to freedom and independence. A unique aesthetic that catches the light and fragments colour, bursting with greens, pinks and neutral tones for a truly special look.
Add the Opal and White Sapphire Star Necklace to your collection for the perfect touch of everyday luxury.
Pops of Colour with Real Turquoise Stones
Turquoise has been worn as a fashion and spiritual signaller for many years. Symbolising protection against negative energy and the balancing of chakras for inner calm, turquoise is another gemstone that we simply needed to include in the 14kt Gold Collection.
From simple but stunning Studs or Rings, to more statement Bar Stud Earrings, the pops of real turquoise in the collection complete it with the perfect touch of vibrant colour.
How to Wear The 14kt Gold Collection
Designed for everyday wear, the 14kt Gold Collection is all about bringing diamonds and gemstones into our day to day outfits. There's no need to save special jewellery for fancy occasions just a few times a year. Wear, enjoy and style the 14kt Gold Collection with everything from loungewear and tailoring to evening gowns. It always works.
Why not add something special to your jewellery collection for the new year? Always fancied real diamonds for every day? Us too. Discover the brand-new 14kt Gold Collection. Now available at Ania Haie.
Collection 2019
Sale 70% Off
Third slide