Ear Edit Collection Launch
Posted by TAYLOR LIPOVAC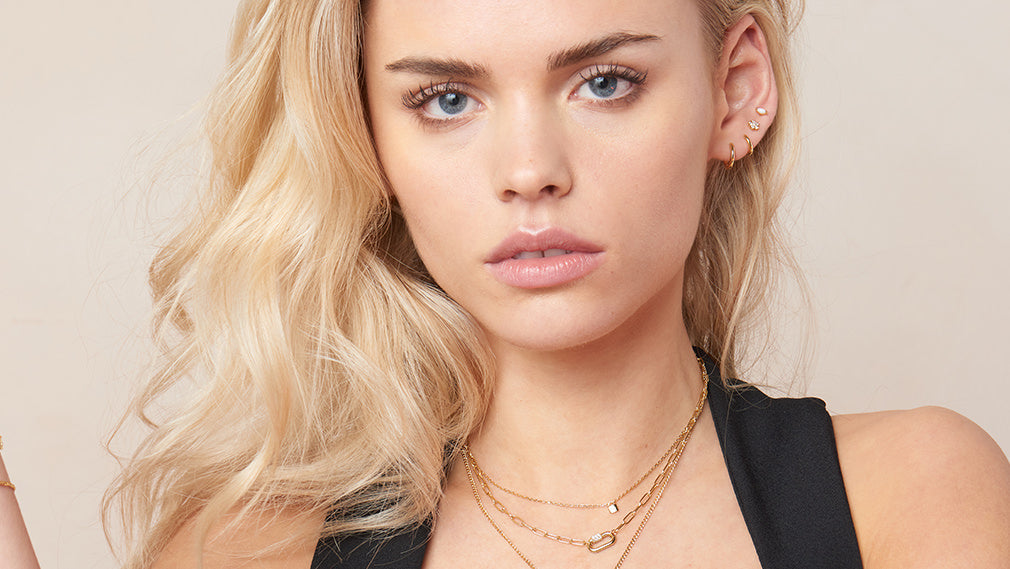 It's All About the Ear Party This Season
Ears have been stealing the limelight for some time now, haven't they? Stacked, OTT, 'extra' ear looks are one of the biggest trends we've seen in the jewellery game for a while – and one of our favourites, might we mention. So, naturally, we've been working on something that goes hand in hand with this trend. Introducing our Ear Edit Collection.
Ear Edit is our first-ever piercing collection, packed with single and set earrings to help you create a fun, stylish and creative ear party look of your own.
Ear Edit Collection
Ear Edit is inspired by the creative and unique looks that the most stylish of fashionistas are building using everything from studs and huggies to statement earrings. This collection is designed to help you create the perfect earring stack – and you don't have to be a pro. In the new collection, you'll find stackable barbell earrings, huggies and mini hoops. And with Kyoto opal, turquoise and cubic zirconia in the mix, there's a little something special for everyone.
Individual Barbell Stud Earrings
Designed to make mixing and matching your ear stacks easier and more fun, the Ear Edit collection features a host of individual barbell studs. Suitable for anywhere from the lobe or helix to a tragus or conch piercing, there's no need to make your look match from ear to ear. Mix it up and add some colour or sparkle with any of our barbell studs.
Huggie Hoops and Mini Hoops
No Ear Edit is complete without a collection of huggie hoops and mini hoop earrings. From super minimal Smooth Huggie Hoops perfect for stacking to unique styles packed with sparkle or opal stones, discover an elevated way to create your new-season stack.
Kyoto Opals
Packed with iridescent colour, Kyoto opals are a key accent in the Ear Edit collection. This stunning, synthetic opal stone originating from Kyoto, Japan is the definition of unique. Iridescent and softly shimmering, this lustrous stone makes the perfect alternative for a different style ear stack, catching light and colour with every movement.
Discover pieces like our stunning Opal Marquise Barbell Studs and effortlessly cool Opal Cabochon Huggie Hoops to add a unique touch to your look.
Turquoise and Cubic Zirconia
Can you really have the perfect ear party without a touch of on-trend colour and just a little bit of sparkle? We think not! So, included in the Ear Edit collection, you'll also find pieces with one of our favourite stones, turquoise. Serving up the perfect pop of on-trend vibrant blue. And the cubic zirconia? Well, everyone needs some sparkle in their life, right? 


From our Turquoise Cabachon Barbell Studs to our Sparkle Mini Hoop Earrings, choose a stone that works for your style.
Discover the world of the ear party this season and make yours an Ania Haie earring stack! Scroll the brand-new Ear Edit collection for summer and find everything you need to create the most unique, creative and chic earring stack for the season. The rules for the most stylish stack? Mix and match, play with different metals, make it asymmetrical, and, most importantly, have fun with your picks!   


Shop the Ear Edit collection now at Ania Haie.
Collection 2019
Sale 70% Off
Third slide