Festival Jewellery
Posted by TAYLOR LIPOVAC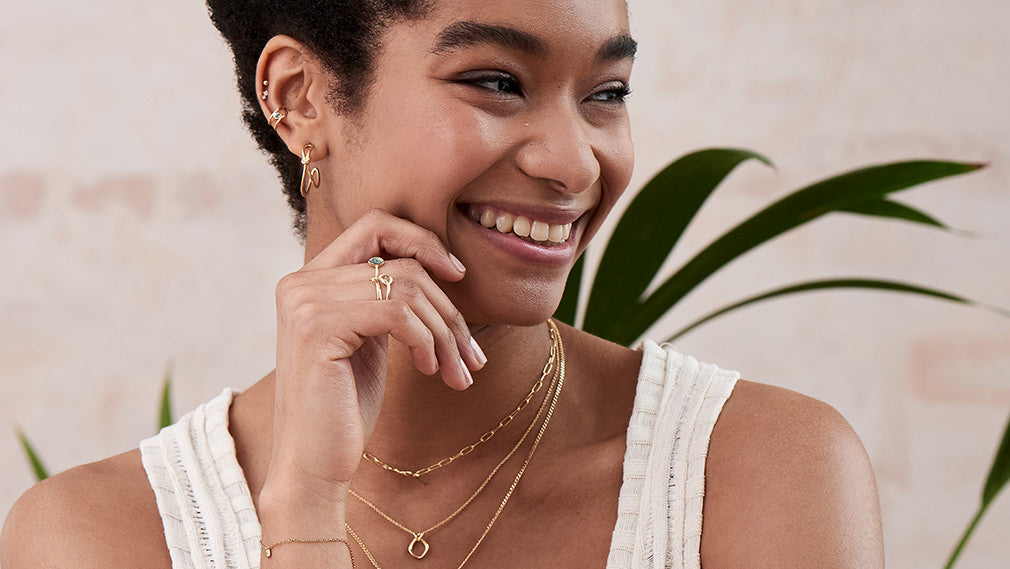 Key Trends to Rock at Festivals This Summer
Whether you're heading to several festivals this summer or holding out for just one of your favourites, you're probably starting to think about your festival style. What to wear for a festival can depend on where it is and whether it's a rock or bohemian vibe. But one thing applies to all and that's your festival jewellery. Your jewellery completes your look, adding an edge to your festival outfit and dressing up your style with anything from pops of colour to just the right amount of sparkle. So, no matter what your festival style is like, we've put together our best festival jewellery pieces to make styling your looks easier than ever.
Celestial Glow
From stunning celestial pieces to sparkle that will elevate your most bohemian festival look, several of our collections are packed with the perfect pieces to complete this vibe. The only problem you're going to have is choosing just a few!
From a flowing maxi dress to flares and a crop top, head straight to our Rising Star collection for the perfect free-spirited jewellery to complete your look. Our lightweight Gold Scattered Stars Hoop Earrings are perfect for dancing. Pair them with our matching Gold Starry Kyoto Opal Signet Ring for perfect touch of sparkle. Set the mood with our Compass Emblem Necklace for a chic celestial accent and try our Wild Soul collection that suits any adventurer at heart. Embrace moon and star pieces to splashes of the ever-protective evil eye symbolism.
Rockstar Chic
Let's face it, a rockstar look at a festival just works. Whether you're a fan of a slouchy band tee and denim shorts with chunky boots or prefer a rock 'n' roll mini dress, the right jewellery will have you looking like you belong up there on the stage instead of down in the crowd below!
Our new Glam Rock collection is packed with all the on-trend chunky square chain details that work perfectly for this aesthetic. Or try layering our chunky Horseshoe Link Necklace with our signature Figaro Chain from the Chain Reaction collection. Here, you'll also find the perfect rockstar chunky Chain Hoops and matching Chain Ear Cuff.
Colourful Chaos
If you can't go overboard with colour at a festival, then when can you!? We LOVE to see some bright colourful jewellery happening when festival season comes around and it's the perfect time to get a little creative if colour isn't usually your thing. And when it comes to colour at Ania Haie, we're all about enamel and brightly coloured gemstones to create the perfect festival look.
Take a look at our Bright Future collection to discover the only way to wear enamel jewellery this festival season. On the hunt for some statement gems? Try our Tidal Abalone Necklace with gorgeous shimmering abalone stone from our Turning Tides collection or head to Into The Blue for all the stunning bright turquoise coloured stones.
Glitter Goals
Love to wear glitter as part of your makeup for a festival? Well, what about your jewellery? You can never go wrong with some sparkle and whether you're dancing in the daytime sun or partying into the night, some glitter and sparkle is the way to go.
Our Midnight Fever collection will get your glitter juices going with striking pieces like our Midnight Star Huggies or our festival-perfect Midnight Star Necklace. Add a romantic twist to your festival style with sparkling pieces from our Under Lock and Key collection for fine chain details with added sparkle.
Go extra with your festival jewellery this summer and create the festival outfit of your dreams with a little help from Ania Haie. From all the colour to a touch of bohemian starry sparkle, we have you covered. 
Collection 2019
Sale 70% Off
Third slide