Get the Boho Glow
Posted by TAYLOR LIPOVAC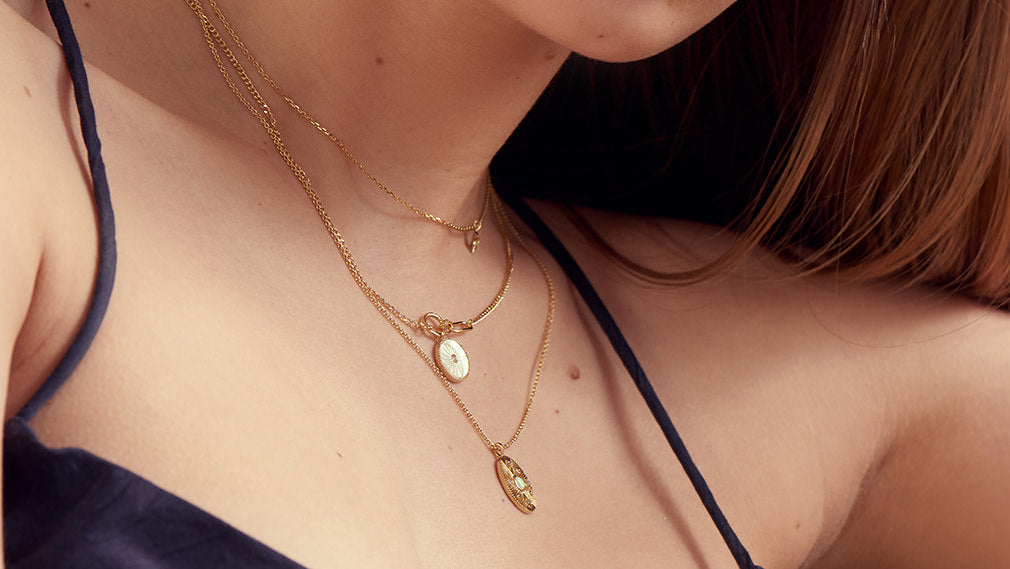 Celestial-Inspired Bohemian Jewellery
The perfect hint of bohemian style paired with celestial detailing? It's the glowing trend that we're obsessed with this season. From stars and moons to shimmering stones, celestial jewellery is emerging as one of the key looks for 2022 and several of our collections happen to be oozing in this starry-eyed style.
Representing twinkling stars, galaxies, moons and the sun, celestial jewellery has become so popular because of its emotive symbolism. These pieces have deep meaning – as well as being so beautiful, serving people with a gorgeous piece of jewellery but also positive energy and good vibes all round.
How to Wear Celestial Jewellery
Like any trend, celestial jewellery can be added to your collection for an updated look for the season ahead. Styled with favourites already in your jewellery box, select from some of our astrologically-inspired collections for key pieces.
Our Rising Star collection is inspired by moonlit walks along the beach and features stunning disc pendants, delicate chains and on-trend signet rings alongside so much more. The Wild Soul collection is a luxe choice, packed with spectacular embossed mother of pearl pieces. Midnight Fever is another collection with a celestial twist. Blending natural labradorite stones with sparkling cubic zirconia, it's the perfect choice for an evening piece.
 And this is how we're styling them.
Layer & Stack Your Celestial Pieces
Layering and stacking your celestial jewellery is an on-trend way to do the look for spring and summer. Try a super delicate pendant like our Midnight Star Necklace and pair it with a chunky disc necklace, such as our Scattered Stars Kyoto Opal Disc Necklace for a star-on-star layered look.
Elevate your ear stacks this season with star-inspired pieces like our Starry Kyoto Huggie Hoops and add a pair of chain studs for a truly unique stack.
Pair with Delicate Chain Jewellery
Pair your celestial jewellery with simple chains and layer them up for maximum impact. You could even add a statement Y chain necklace for the perfect touch of glam and sparkle.  
Up the Celestial Vibe with Gemstones
Adding gemstones to your look is another key way to up the ante when it comes to sparkle. Try iridescent and stunning mother of pearl with our Sun Pendant Necklace or opt for unique Kyoto Opals with our Star Bracelet. Labradorite serves up an edgy twist on natural gemstones with our Midnight Star Ring or simply sparkle with cubic zirconia and our Scattered Stars Ring.
Make It Luxury
Style your celestial pieces with a luxury vibe. Pair up mother of pearl and Kyoto opals for a luxe choice with our Stud Earrings or take your huggies up a notch with chic and super luxe celestial details with our Moon Emblem Huggie Hoop Earrings.
Balance with Statement Trends
One of our favourite ways to shop celestial pieces is to choose designs that blend star details with another statement trend. Wild Soul is the perfect collection for this. We'd head straight to our on-trend signet rings with a celestial twist. From our Compass Emblem Ring to our Starry Kyoto Opal Signet Ring, wear yours solo or stack them up this season.
The perfect boho-luxe trend for any free spirit, celestial jewellery is one to watch for 2022 and beyond. Style your pieces in layers and stacks or keep it simple. Just keep your eye on jewellery with stars, moons or sun-inspired details and you're on the right track.
Shop the latest collections with Ania Haie and discover the perfect touch of celestial style blended into our luxe everyday jewellery.
Collection 2019
Sale 70% Off
Third slide