How To Measure Your Ring Size
Posted by VICKY ROBINSON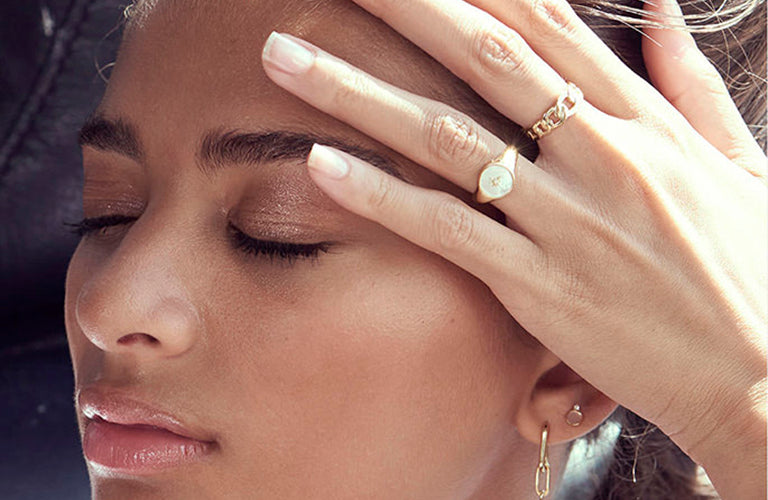 To help you find your ring size, our jewellery experts have put together this ring size guide including a link to our ring size chart and tips for measuring your finger at home. It's super important to ensure you know the size of whichever finger you are buying a ring for so you get the perfect fit for your new ring.
If you're shopping for someone else, the best way to find her ring size is to ask. If you're planning a surprise, get help from their friends and/or family. Hopefully, they can ask without raising too much suspicion. The women's ring sizes available in Ania Haie jewellery ranges from size 50 to size 58.  These measure from 15.9mm to 18.5mm. The most commonly purchased women's rings size in Australia is 54. A full list of our sizes is shown on our ring size guide. However, it's best not to just go with the most popular size, and actually measure where possible. 
The Easiest Way to Determine a Ring Size
The easiest way to determine your ring size (or someone you are buying for) is to measure one of their existing rings. Use our ring size guide to see the diameter matching your ring size. 
If you don't have access to an existing ring, then you will need to measure the finger the ring will be worn on. 
How To Measure Ring Size With String, Paper & Ruler
If you don't have an existing ring to measure, measure your ring size with these four simple steps:
Wrap string or paper around the base of your finger.
Mark the point where the ends meet with a pen.
Measure the string or paper with a ruler (mm).
Pick the closest measurement on the ring size chart to find your ring size.
Ring Sizing Tips:
When measuring your existing ring, make sure you measure the inside of the ring.
A ring should fit your finger comfortably: snug enough so it won't fall off, but loose enough to slide over your knuckle with relative ease.
When your knuckle is bigger than the base of the finger, measure both places and pick a ring size in between the two.
Measure your ring size at the end of the day when your fingers are warm. Finger size changes depending on the time of day and the weather, and your fingers are smaller in the morning and in colder weather. Also, remember that your fingers on each hand may be different sizes, your dominant hand usually need bigger sizes.  
Measure a couple of times for more accuracy.
 What if I order the wrong size ring?
All our rings are made from 925 Sterling Silver with either 14kt Gold Plating, 14kt Rose Gold Plating or Rhodium Plating.  This means that they can't be resized.  
It's on trend to wear rings stacked and/or on multiple fingers so you can think about wearing the ring on another finger. However, always know that we are always happy to exchange your ring for another ring in the correct size within 30 days of purchase. 
Collection 2019
Sale 70% Off
Third slide