How to Style Modern Pearls
Posted by TAYLOR LIPOVAC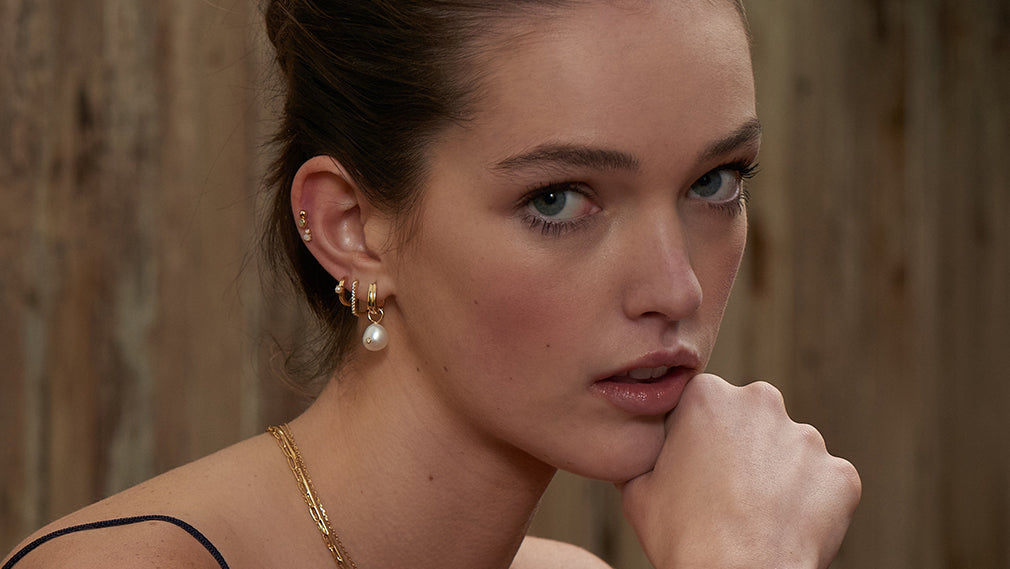 Perfect the Modern Pearl Trend This Spring
Taking a classic jewellery element and breathing new life into it, this season it's all about the beauty of the pearl. But get ready to see it with a whole new look. We're pausing traditional strings of pearls and simple pearl earrings. Instead, the focus is on modernity and a contemporary new twist on pearls that's making us obsessed with this look. Perfect for wearing everyday with the rest of your jewellery favourites, there's no need to save pearl jewellery for 'best' anymore. This season, it's all about mixing it up, wearing pearls in a new way and choosing statement pearl jewellery that you can style up to make your own with any outfit. Here's how we'll be doing it.
Everyday Pearls with Denim
Go for maximum contemporary vibes by switching out any formality and wearing your pearl jewellery with your most casual and effortless blue jeans and t-shirt. Every pair of slouchy jeans and tee needs that extra detail this season to up the chic ante and elevate your weekend attire with the perfect touch of luxe.
Dive into our new Pearl Power collection and layer a statement pearl pendant over a simple white t-shirt and add a pair of pearl huggies to your everyday stack. 
Layers, Layers, Layers
Don't shy away from layers when it comes to pearls. It's one of our favourite ways to keep the pearl look extra modern – and it gives your other jewellery a whole new vibe too. Try layering both delicate chains with your pearls as well as chunkier chains with some new-season edge to switch up your look.
Opt for a necklace that pairs pearls and chunky chains, like our Pearl Chunky Link Chain Necklace and layer with more link chains to create your own take on the layered look. Finish with an on-trend snake chain necklace to pull the look together.
Pearl Ring Stacks for Days
Add some pearlescent shimmer to your ring stacks instantly with a statement piece that oozes catwalk style. If you thought stacking rings needed to be plain and simple, why not try mixing it up with a bolder piece complete with this seriously on-trend accent?
Our Pearl Sparkle Ring is the ultimate alternative stacking ring but if you're all about statement style, opt for our stunning Pearl Sculpted Ring.
Team Pearl Earrings with Cuffs
While a delicate and simple earring will always have its place, this season, we'll be styling our pearl earrings with some serious stacking. We're talking studs and huggies, of course, but specifically, ear cuffs. Ear cuffs allow you to crank up your ear stacks without the extra piercings – so you can add as many as you like to your look!
Pair the must-have Pearl Drop Sparkle Huggies with our subtly textured Smooth Twist cuff and add the Glam Cuff for the perfect hint of sparkle.
Take your jewellery game to the next level this season by incorporating the modern pearl trend into your everyday looks. Shop the brand-new Pearl Power collection on Ania Haie and find all the statement pearl pieces your collection is missing. 
Collection 2019
Sale 70% Off
Third slide