How to Style Short Necklaces
Posted by RILEY FEATHERSTONE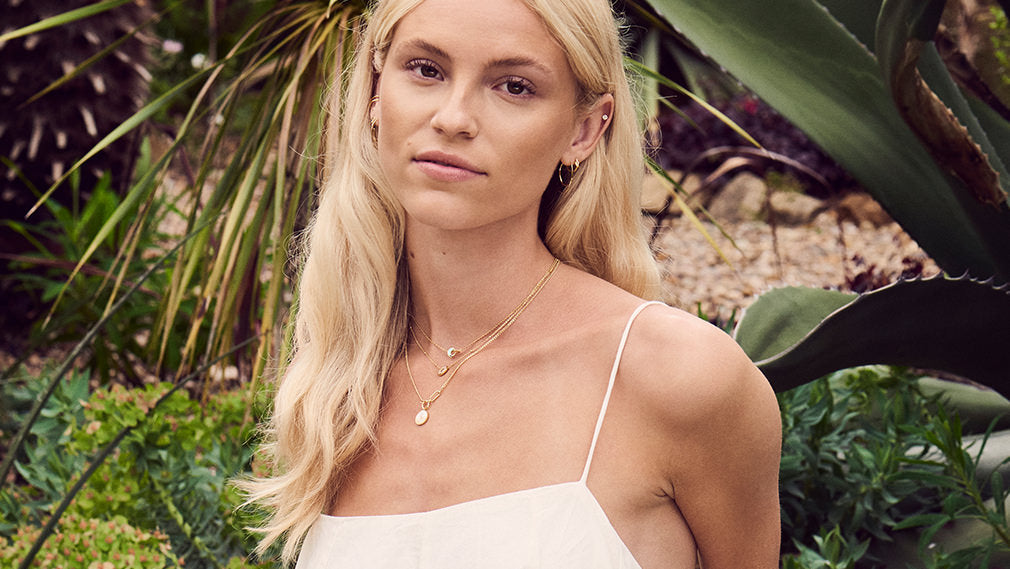 Shorten Up for Summer
Whether you're getting dressed up or keeping your style casual in jeans and a tee, short chain necklaces are the perfect way to add a little extra sass to your look. This season, it's all about adapting your short necklaces through stacking and layering to suit the occasion. This way, you're always rocking a totally unique look.
There are plenty of ways you can do this to suit your style. Here, we're looking at just a few of our fave ways to style short necklaces.
Layer Your Shorts
First things first, we're talking layering. Layering up chains is a jewellery trend going nowhere. This means, getting creative and building up a unique look has never looked better.
From shorter chains to chunky chokers, play with your layers, creating a new look with every outfit and you'll see how much fun you can have with this summer essential.
Team with a Statement Pendant
When layering necklaces, we think anything uniform should be out and whatever makes you feel extra sassy should be in. So, how about layering up a shorter necklace with a statement pendant?
Play with a fun droplet Y necklace or opt for super long with a bold pendant like our Greek Warrior chain.
Add Some Subtle Sparkle
One of our favourite ways to style short necklaces is to add in a touch of sparkle. And not just for night-time! We love to rock some subtle sparkle in our everyday looks too.
How to do it? Try a flash of cubic zirconia and subtly shimmering labradorite stone with our Midnight short pendant necklace. Or, if a little more sparkle is your vibe, opt for our Glow Drop necklace complete with several splashes of sparkling cubic zirconia baguettes.
Keep Things Delicate
Keeping your layered look delicate is a chic way to go and always works for any look. This is perfect for the daytime. So, whether you're wearing a super high neck or something more plunging, choose a few delicate and subtle chains to stack up.
You can never go wrong by adding in a choker or two. Try our classic Chain Solid choker or embrace the '90s with our Orbit Solid choker finished with a dainty solid ball.
Make It Chunky for Evening
When you're building a more statement look for the evening, adding some chunkier pieces is the perfect way to style your short necklaces. This creates a look that stays high on your collar bones but still serves up that pop of statement shine you're looking for.
A heavier chain like our Horseshoe Link necklace works to perfection or try a chunky medallion look with our Nika short necklace. Take your short stack to the next level with a medallion choker and our gold Deus choker band.
Long and oversized isn't the only way to make a statement this season. If you prefer something a little subtler and fitted, try styling up a stack of short necklaces. The perfect accessory look to take you from day to night – and super adaptable.
Shop our range of short necklaces to find your perfect combination at Ania Haie.
Collection 2019
Sale 70% Off
Third slide