Lapis Jewellery
Posted by TAYLOR LIPOVAC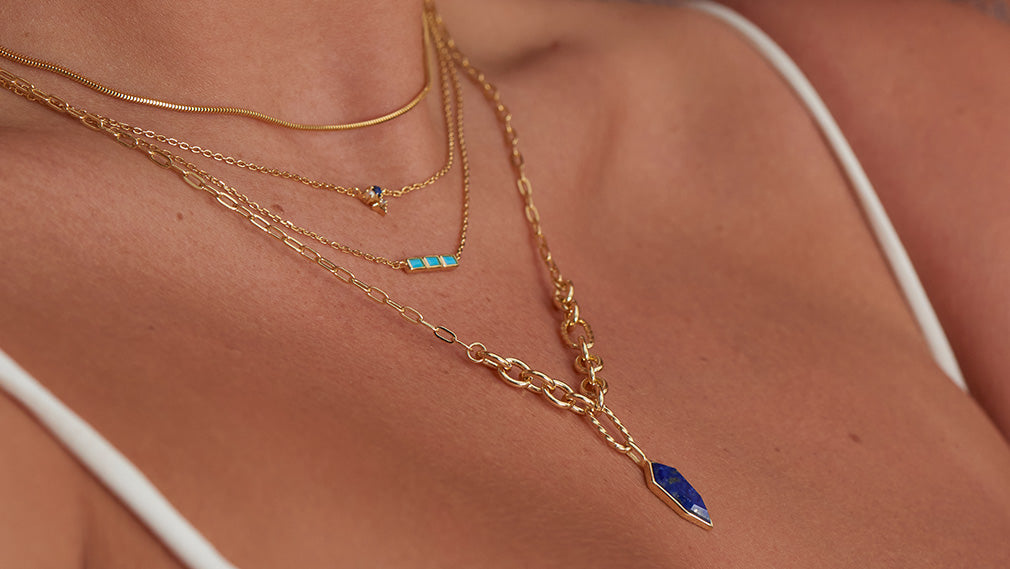 Discover Stunning Lapis Jewellery in the Second Nature Collection
Embrace the 'blue' trend this season in the most stunning and opulent way with Lapis jewellery. A curiously indulgent and luxurious stone, lapis is an intensely coloured blue stone, complete with a unique speckling of gold. Packed with spiritual meaning and emotionally and psychically healing properties, it's not just its beauty that makes lapis jewellery so revered. And this season, it's the perfect way to add a vibrant touch of on-trend bright blue to your look.
Lapis Meaning and Properties
So, why do people love lapis so much? And why is it used in beautiful jewellery? There is a myriad of reasons why lapis has become so beloved. Not only is it a stone used for spirituality and deep thinking, but it is also known for a wealth of physical healing properties.
Spiritually, lapis encourages strength and courage, signifying royalty as well as inner wisdom and the self-awareness to discover the truth. It is also known for protecting the wearer from evil and negative energy.
Physically, lapis has been used to help protect against heart and skin diseases while helping with physical calmness and harmony within. With properties like its ability to boost the immune system and soothe inflammation, lapis is used and worn for a wide-ranging list of reasons. Which, when paired with its undeniable beauty, made it the perfect choice when creating our Second Nature collection.
Second Nature
Our Second Nature collection is the perfect place to discover your new lapis jewellery pieces. Alongside an edit of malachite designs, we've designed unique lapis jewellery that is perfect for both dressing up and wearing every day. From perfect stacking huggie hoops to statement pendants, we can't wait for you to explore this unique collection.
Our striking Lapis Emblem Pendant is a head turning piece in the collection and pairs our signature lapis detailing with on-trend chunky gold chains. Wear it solo or layer up with wrappings of sleek gold chains. The rings in the Second Nature collection promise a next level look if you're into stacking. From our Lapis Emblem Ring to the effortlessly cool and subtle Lapis Evil Eye Ring, we've designed each piece to pair up with your fave stacking band rings to perfection this season.
Right now, there's nothing bigger and more key for this season's jewellery trends than huggies, huggies and more huggies. These mini hoops dress up your ear stacks like nothing else, adding fun, texture and colour to your look while serving up low maintenance style that goes from day to night. Opt for ultra modern with our Lapis Angular Hoops, adding serious dimension to your ear stack or try our Lapis Star Huggies paired with a pearl and sparkling cubic zirconia stone. Love a little drop? You're going to be obsessed with our Lapis Point Pendant Hoops with a perfect lapis stone droplet on a smooth gold huggie.
Shop lapis jewellery at Ania Haie this season to elevate any simple look with a touch of luxurious lapis blue style. Whether you're creating a minimal look or adding some lapis to a layered and stacked look, we want to see how you're styling our pieces! 
Collection 2019
Sale 70% Off
Third slide