Malachite Jewellery at Ania Haie
Posted by TAYLOR LIPOVAC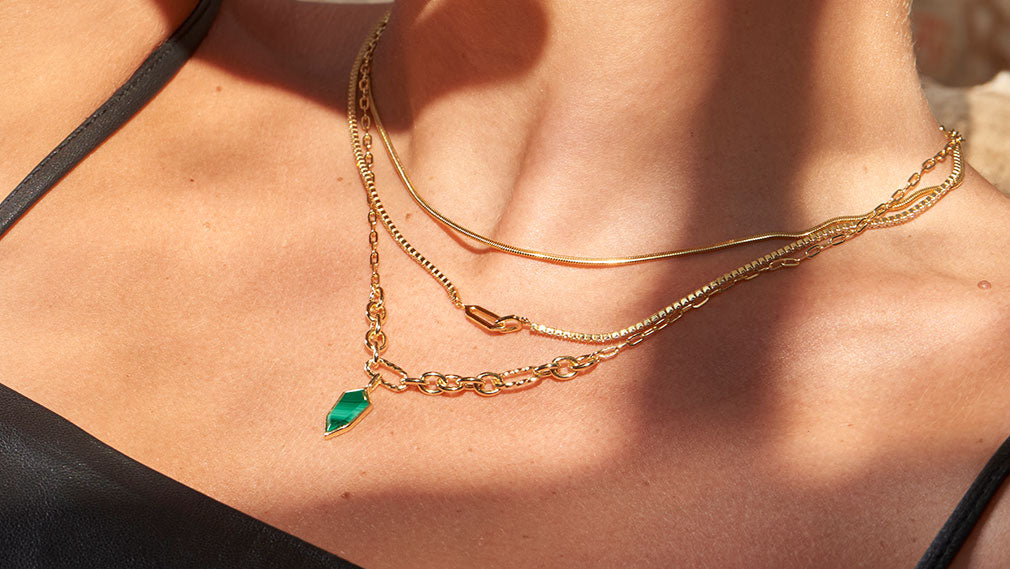 Discover Malachite Jewellery in the Second Nature Collection
One of the biggest colours this season for jewellery is green. So, what could be better than a beautiful green stone that comes with a wealth of healing properties and spiritual meaning? For these reasons, we've fallen head over heels in love with malachite this summer. A stone you'll find bursting with beauty in the new Second Nature collection at Ania Haie. Oozing a beautifully deep and seductive shade of green, the malachite jewellery in the Second Nature edit features malachite pendants, everyday huggie hoops with a pop of stunning green and statement pieces that are sure to make you fall in love with malachite, just like we did.
Malachite's Many Properties
While malachite crystals are famed for their stunning green beauty, they are also increasingly popular for use in jewellery because of their healing properties. Aligning with the heart and throat chakra, malachite is said to be useful for emotional healing, balancing the mood and acting as an anchor for anti-anxiety. This calming and serene stone is therefore the perfect choice for jewellery with an emotional and healing twist.
The Spiritual Side of Malachite
Along with its many healing properties, malachite is known and loved for its many spiritual meanings. Symbolic of acceptance and peace, malachite is said to clear negative energy for the wearer while offering the courage to take risks and try new and exciting ventures. With powerful feminine energy, malachite is not only beautiful to the eye but serves its wearer with inner strength. The perfect addition to jewellery worn on special occasions and simply every day.
3 Ways We're Wearing our Malachite Jewellery
Not sure how to style your malachite necklaces, rings and earrings? This is how we're wearing ours this season!
Simple and Chic
The malachite gemstone is a beautiful crystal that is perfect for a simple, minimal look. Keeping your look clean and modern, why not opt for minimalism and wear just one key piece to let your malachite shine?
Choose a statement piece like our incredible Malachite Point Pendant for this look. Striking and effortlessly cool, this is perfect to pair with anything from a simple white tee to a more dressed-up outfit.
Stacked and Layered
If you love a layered look, adding a malachite gemstone to your stack is the perfect vibe this season.
When layering necklaces, choose delicate pieces that work with other simple chains like our Malachite Evil Eye Necklace. If you fancy being a malachite ring stacker – like us – try stacking the Malachite Star Ring or the Malachite Evil Eye Ring with your usual favourite bands.
Mix and Match with Other Stones
To create a truly unique look, why not mix and match your malachite with another stunning stone? We love this mismatched aesthetic and it keeps your look on-trend while representing your unique style.
Try pairing a malachite piece from the collection with a Kyoto Opal piece from the Rising Star collection or even a contrasting turquoise piece from Into The Blue.
Discover the powers of malachite jewellery at Ania Haie with the gorgeous new Second Nature collection. Whether you love the look of malachite because of its on-trend palette or because of its deep and spiritual meaning, there's a perfect piece just waiting to be added to your collection.
Collection 2019
Sale 70% Off
Third slide