NEW 14kt Collection Launch
Posted by TAYLOR LIPOVAC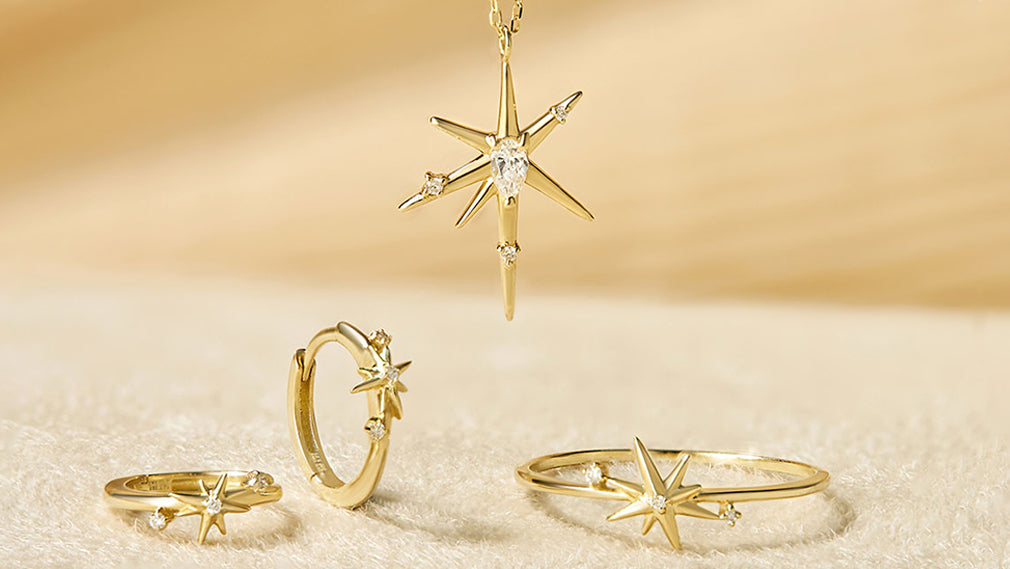 14kt Gold Collection Update
It's a brand-new season and that means a seriously chic update for our incredible 14kt Gold Collection at Ania Haie. This is our fine jewellery collection, crafted in 100% recycled solid 14kt gold and features our most precious stones; diamonds, white sapphires, natural mother of pearl and more. Introducing two new edits to our 14kt Gold Collection, discover both the 14kt Cosmos collection and our brand-new Afterglow collection, each designed to serve you with beautifully crafted fine jewellery with Ania Haie's signature everyday details and styling.
14kt Cosmos Collection
The first update to our 14kt Gold Collection is Cosmos. As the name may hint, this collection is the perfect celestial addition to our fine jewellery range. Incoming to Ania Haie in time to become your go-to for Christmas styling and gifting, Cosmos features our stunning lab-grown diamonds – a brand new and more sustainable way to bring diamonds into your wardrobe – and effortlessly gorgeous mother of pearl detailing.
The collection is delicately inspired by the 'planetary alignment' trend of this season. Designed to exude escapism, spirituality and astrology, the celestial symbolism is packed with star motifs and crescent moons with the perfect subtle touches of sparkle. Ideal to add some luxe vibes to your every day, as well as pieces perfect for dressier evening outfits.
You'll find delicate chains with exquisitely-crafted pendants and charms, as well as studs and huggie hoops with the most feminine fine detailing. The lab-grown diamonds in the collection add the perfect sparkle and are part of Ania Haie's latest efforts to become the most sustainably sourced we can be. Crescent moon detailing is finished with iridescent mother of pearl, adding a touch of classic style to the pieces.
14kt Afterglow Collection
Bringing white sapphire sparkle to the collection this season is our brand-new Afterglow edit. Designed to add a sharp and sleek edge to the fine jewellery collection, Afterglow is inspired by the elegant 'elevated studs' trend of the autumn/winter runways and features stunning white sapphires encrusted into statement climber earrings, drop pendant necklaces and sparkling luxe rings.
With a nod to the punk trend of the season, each piece in the Afterglow collection is delicate yet bold, serving as the perfect everyday jewellery with a sparkling luxury twist. Expect chic white sapphire pendants and bracelets set on delicate gold chains, as well as the perfect stackable studs, huggies and hoops. This exclusive 8-piece edit serves as a perfect go-to for those wanting to upgrade and elevate their staple pieces with something that feels truly luxurious.
Shop the newly updated 14kt Gold Collection at Ania Haie with Cosmos and Afterglow and treat yourself to something special this season. The perfect way to include luxe pieces into your everyday, our solid 14kt jewellery can be worn simply or styled and layered with any of your favourite pieces from our other collections, making it the chicest and easiest way to upgrade your jewellery collection this season.  
Collection 2019
Sale 70% Off
Third slide