NYE Party Perfect Pieces
Posted by RILEY FEATHERSTONE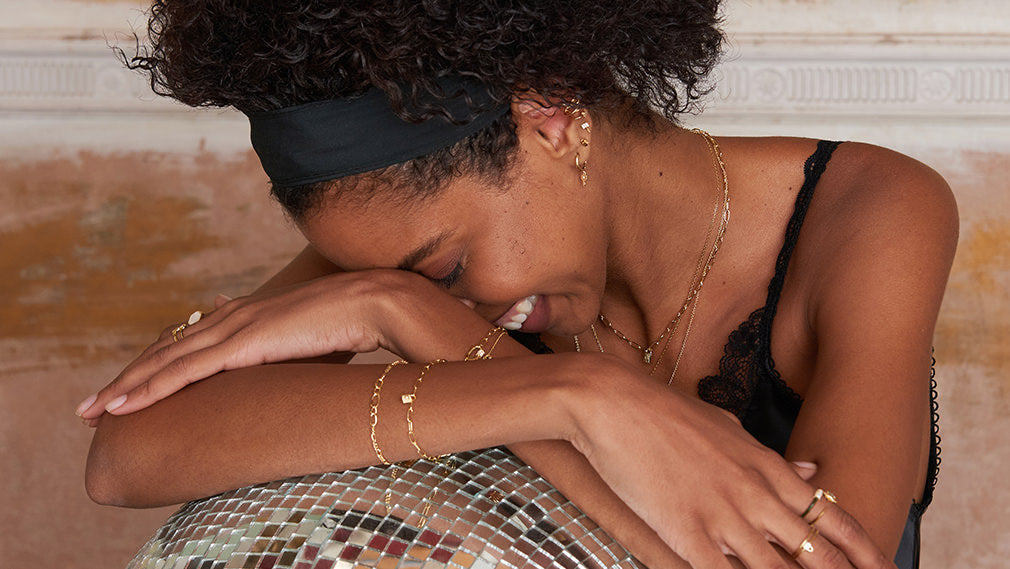 Perfect Jewellery for Your New Year's Eve Party
Looking to update your jewellery collection ready for New Year's Eve? We've got you well and truly covered. When it comes to the biggest party night of the year, we believe in the more jewellery, the better. Why not go all out for NYE? And especially when it comes to sparkling jewellery that you will definitely wear time and time again.
Once you've worked out your look for the big night, the jewellery is the finishing touch that will make your 'fit come together. So, choose jewellery to suit your outfit, hair and your makeup – and here's how to do it.
Hair Up? Make It a Statement Ear Stack
Decided to go all out with a styled hair up 'do this year? A chic hair up look is only complete in our eyes with the perfect statement ear stack. And if you're doing it for New Year's Eve, you've got to all out.
Stack up your earrings from lobe to the top of your ear with a mix and match – and asymmetrical – ear party. From sparkling studs and huggie hoops to ear jackets and drop earrings, the Ania Haie collection is packed with on-trend pieces to add all the glam to a hair up look.
And if you don't have multiple ear piercings, remember, you can still create a dramatic look by using stacks of ear cuffs that comfortably wrap around the ear from the middle right up to the helix.
Add Detail to Strapless Dresses
If you've opted for a strapless dress for your NYE party this year, complete your look by adding just the right detail to your neckline with some aesthetically on-trend layered necklaces.
Why not start with our short Evil Eye chain to bring you good vibes at the party and then layer it with a chunky chain, like our gold Figaro necklace?
Turn Your Necklace Around with Backless Dresses
A backless dress is always a stunning option but for New Year's, it's one of our fave choices. If you've decided to go for a backless look, add an edge from behind by wearing a draped chain down your spine. Unexpected and effortlessly cool.
Our collection of lariat and Y necklaces create the ultimate NYE look.
Experiment and Always, Mix and Match
If there's ever a time to experiment and get excited about wearing statement jewellery, surely, it's for New Year. Right?
Whether that means stepping out of your comfort zone and adding some serious sparkle to your jewellery look or mixing it up with gemstones and pops of colour to complement or clash with a bold makeup look, why not try something you wouldn't normally wear to complete your New Year's outfit with a bang?
Don't forget jewellery for the big night this year! The perfect jewellery can really make an outfit pop – we don't feel complete without ours. So, once you've finalised your outfit and hair and makeup, head on over to Ania Haie to finish your new year's party outfit with the perfect touch of special sparkle.
Collection 2019
Sale 70% Off
Third slide