Turquoise Jewellery Essentials & How to Wear Them
Posted by TAYLOR LIPOVAC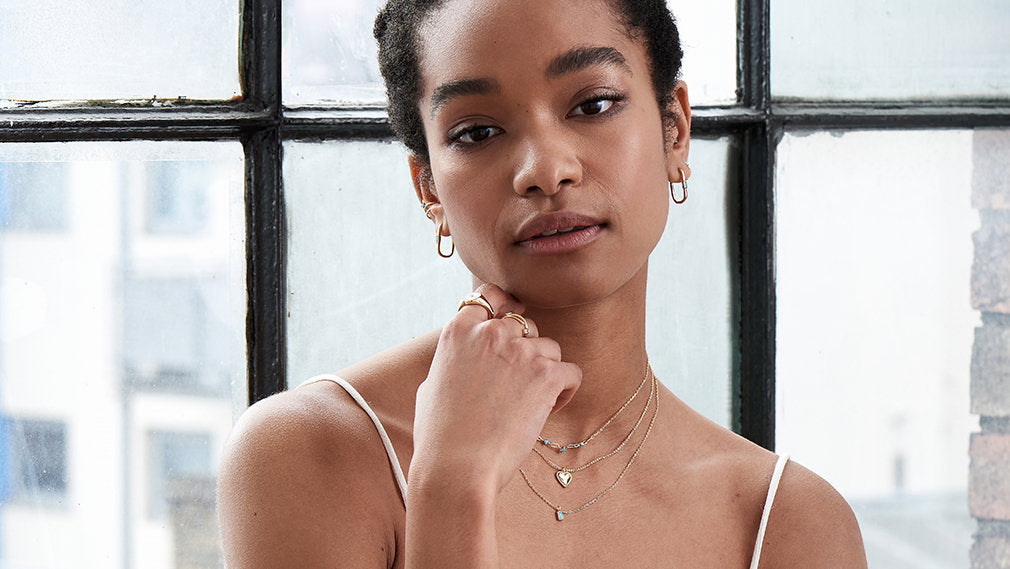 How We're Styling Turquoise Jewellery This Season
This season, colour is huge. And in particular, turquoise. This stunning and timeless palette is having a moment in the spotlight this season and we're loving it. Bold, bright and beautiful, turquoise jewellery is the perfect way to add a flash of vibrant colour to your everyday look or inject some fun into a more dressy or formal outfit. And at Ania Haie, we've incorporated plenty of jewellery with turquoise stones into our collections to make styling yours that much easier.
Whether you're into subtle and chic or statement and OTT, here's how we're styling our turquoise jewellery this season.
Add Delicate Pieces to Your Everyday Looks
An easy way to inject some turquoise into your collection is to choose delicate and subtle pieces that you'll style every day. Not all turquoise jewellery has to be loud and sometimes, a subtle piece can make a statement of its own.
Our super delicate turquoise drop pendant necklace would work with any everyday outfit or opt for a subtle bar bracelet with a chic trio of turquoise stones. Our turquoise mini signet ring serves up a snippet of blue without taking over or our Tidal drop hoops are the perfect way to maintain your signature style if you're all about the big hoop look.
Stack It Up
If you know Ania Haie, you know we're a fan of creating a unique ear stack. And what better way to build your own individual look than by incorporating some fun, vibrant colour? Turquoise earrings are the perfect way to inject a pop of colour into your stack and we'll be doing it several ways this season.
Switch out a few of your staple pieces and replace them with jewellery with turquoise stones instead. Dive into our Into The Blue collection and discover earrings created with turquoise-colour stones that are perfect for stacking for a bright and bold ear party vibe. Simple studs could be replaced by our square turquoise earring studs and swap plain huggie hoops for our super chic turquoise huggies. Our stunning Tidal turquoise mini hoops also make the perfect on-trend stacking piece for some extra detail from the Turning Tides collection.
Opt for Classic Elegance
Got a formal event this season? Why not add some on-trend turquoise to a dressed-up look? Browse the 14kt Gold Collection where you'll find our most luxury solid gold pieces, paired with accents of luxe turquoise stones. 
Teamed with white sapphires, discover our gorgeous gold necklace, an impossibly elegant and delicate necklace, finished with a vibrant turquoise stone. Replace your diamonds with turquoise this season and choose our beautifully minimal gold turquoise stone ring or keep all the detail at the ear with our stunningly unique hook earrings, finished with turquoise and white sapphire stones. Maximum elegance from our most luxe turquoise jewellery.
From a touch of blue at the ear to a statement turquoise necklace to add fun to your favourite LBD, styling turquoise jewellery into your outfits is an essential this season. The question is, how will you be styling yours?
Shop turquoise jewellery at Ania Haie and discover a whole new world of colour.
Collection 2019
Sale 70% Off
Third slide