Update Your Ear Party
Posted by TAYLOR LIPOVAC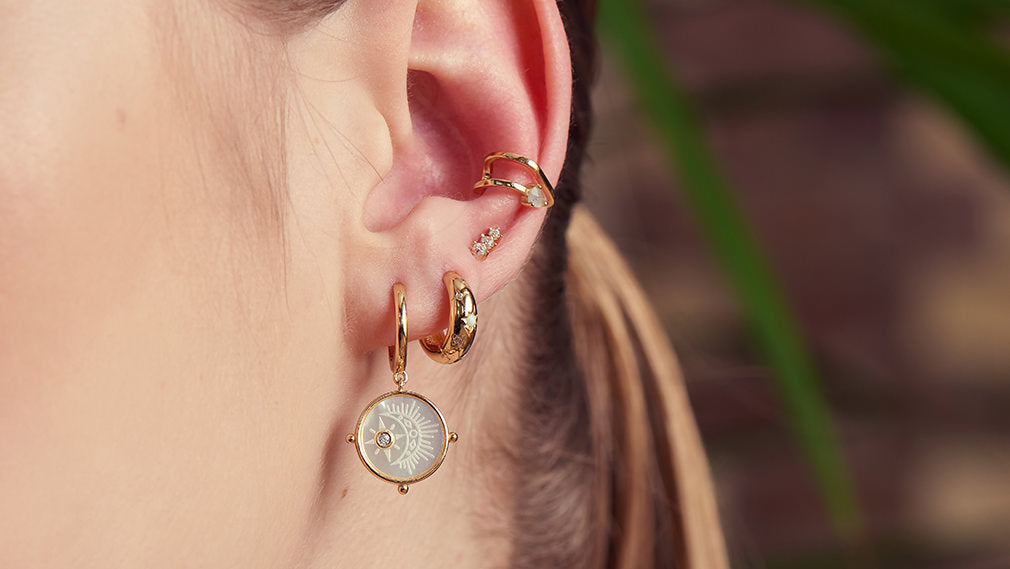 Key Pieces for Your Collection This Season
It's all about building up a stacked earring look. When it comes to this trend, the more, the merrier really rings true. From hoops and huggies to maximum studs and even added ear cuffs, ear parties are all about creating your own unique look and making it as extra as you like. Plus, an ear party goes with absolutely everything in your new-season wardrobe. Guaranteed.
Making updating your ear party easier than ever, this season, we introduced our Ear Edit collection. Packed with set and single earrings perfect for stacking, this edit makes finding the right pieces for your earring stack easy, quick and ultra-stylish. We've included some key classic staples that you'll never want to take out along with some statement pieces that you can switch in and out and mix and match depending on your OOTD.
So, what do you need to include in your ear party this season? We've got you covered.
Everyday Huggie Hoops
Huggie hoops are a great place to start when you're building an earring stack. Comfy and subtle enough to wear every day and at night, these are interchangeable with every look and adaptable, so you can wear them anywhere on your lobe up to the top of your helix.
Try an essential pair of Smooth Huggie Hoops or opt for Sparkle for every day.
Statement Hoops
Statement hoops are key for the season's trends and a fun way to add some edgy style to an otherwise simple look. Hoops have made a huge comeback and now, they've been added to the list of absolute style staples when it comes to jewellery. Plus, they're a quick and easy way to elevate any look from workwear to your go-to night out looks.
Opt for anything from a statement mother of pearl Drop Huggie Hoop to a chunky Chain Hoop Earring for serious sass.
Ear Cuffs
One of our favourite ways to up the ante when it comes to styling an ear party is to add a slice of extra-ness. How? Ear cuffs. Without needing lots of piercings, ear cuffs allow you to create a heavier and more stacked look in seconds. Wear them wherever is comfortable because they pinch-to-fit so you can adjust with every wear.
In the latest collections, choose from coloured cuffs and on-trend knotted cuffs for maximum stacking points.
Standout Stud Earrings
Simple studs are great – and staple for your jewellery collection – but what about statement studs? Now, you're listening, right? This season, it's all about adding some fun and standout studs to your ear party. Plus, this is a chic way to go a little wilder on your style, even for a work look.
Add a pop of on-trend colour with Turquoise Barbell Stud or chic sparkle with our new Crawler Barbell Stud. Or both!
Statement Style
For events and special occasions, we say go big this season. And it's all about choosing some statement pieces from your ear stacks. Why not try adding in some Chain Drop Studs or make your stack extra special with some real diamonds from our new 14kt Gold Collection.
Shop the key pieces for your new-season ear party here at Ania Haie. While we've got plenty to go at in our Ear Edit collection, don't forget to also browse some of our summer, newly-launched collections like our Into The Blue and Rising Star collections. We've packed them with turquoise-colour stones, mother of pearl, Kyoto opals and plenty of sparkle so that finding the right piece for your style is 'in the bag'.
Shop everyday jewellery at Ania Haie now.
Collection 2019
Sale 70% Off
Third slide