Wear Your Greens
Posted by TAYLOR LIPOVAC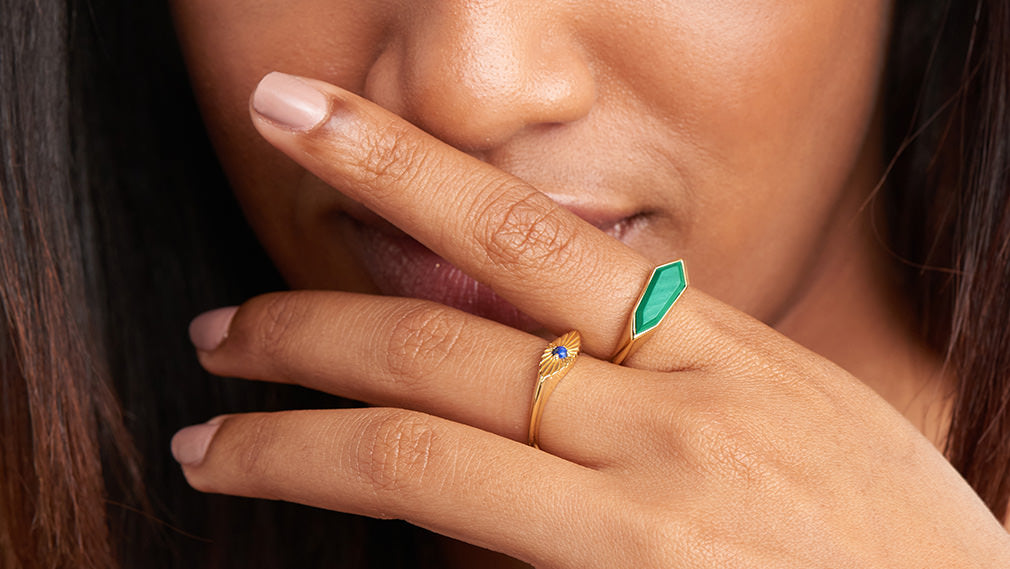 Elevate Your Collection This Season with Green Jewellery
From emerald to neon, this season, green is making a statement when it comes to jewellery trends. Colourful jewellery has made a vibrant comeback but when it comes to the upcoming season, focus your attention on green and you can't go wrong. Think bold, intentional pieces as well as delicate, subtle choices – or a combination of them both! However you like to style your jewels, remember green is the colour for party season.
Luckily, at Ania Haie, we've got plenty of options if your jewellery box needs a green update and quick!
Opt for Luxe with Malachite
One of our fave ways to incorporate some green this season is with some luxe and shimmering malachite. Malachite stones ooze spirituality with a luxury twist. With a vibrant and rich green hue, a piece of malachite jewellery might be the perfect way to elevate your everyday jewellery for the party season.
Explore our Second Nature collection and discover stunning malachite jewellery from our subtle Malachite Emblem Huggies to bolder and more statement pieces like our Emblem Pendant. The perfect balance of on-trend chunky gold and this season's green.
Sparkle In Green
The chicest way to do sparkle jewellery with your party looks this season? Opt for shimmering green cubic zirconia. A vibrant alternative to classic sparkle, we're obsessed with glittering green pieces and you'll find plenty in our Dance Til Dawn collection.
Layer your most dainty chains with our Sparkle Emblem Chain Necklace and add a pop of green to your ear stacks with the gorgeous and chunky Sparkle Dome Hoops. Our stunning and effortlessly chic Drop Pendant Chunky Chain Bracelet is the perfect way to adorn your wrists, best styled with a coordinating chunky gold chain or bangle. 
Choose Statement Solid Colour
Make a statement with your green jewellery by opting for solid pieces using super chic and on-trend enamel accents. Enamel is a big trend for this season, and it serves up a bold pop of your chosen green hue as part of any layered or stacked look.
If you're into the enamel vibes, dive into our unique Bright Future collection. Here, you'll find bold enamel pieces with deep forest green details, bright teal and chic sage palettes. There's a green for every mood and style. From Huggie Hoops to the perfect green Stacking Rings, this is how we're adding a touch of enamel to our looks this season.
Shop green jewellery at Ania Haie and explore the way we're styling our green choices for this season. Statement and OTT, delicate and chic – and everything in between – when it comes to green jewellery, we love it all. 
Collection 2019
Sale 70% Off
Third slide